Quality that`s IT
Language: German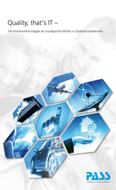 Hardback with book cover, postal dispatch, Language: German
The book is now also available as an e-book:
e-book from Apple
e-book from Amazon
39.90 EUR (inkl. MwSt.)
Quality is the prerequisite for business success. IT is the quality enabler in today's economy, its products, production methods and distribution channels through increasing levels of virtualization and relies on IT.
'Quality that's IT' points out the many interactions between IT and quality. Quality is defined and described as a strategy for outstanding value generation. It also illustrates the key techno-socio economic development of convergence: Established technologies are being replaced by IT, entire business sectors are being changed and newly developed. Examples from industry and commerce show IT's essential role as a core competence. Key performance areas and development trends are also presented as well as IT based perspectives for the further development of our society and ecomomy.
Portrait
Werner Wienand
Dr. Werner Wienand, Germanist (doctorate Johannes Gutenberg University Mainz 2001 ), research in the field of philosophical fulfillment constructions, Qigong teacher, composer, multi-instrumentalist, holistic instrumental and vocal trainer. 1993-2008 technical editor at PASS Consulting Group.
Gerhard Rienecker
Gerhard Rienecker is Chairman of the Executive Board of PASS Consulting Group, Managing Director of PASS IT-Consulting and Chairman of the Supervisory Board of PASS Global Consulting Alliance AG and PASS System Management AG. In these positions, he promotes the implementation of PASS' seven strategic success factors: customer focus, specialization, integration, innovation, independence, employee focus and flexibility. Gerhard Rienecker also heads the PASS Banking Business Unit. In addition to his entrepreneurial activities, Rienecker is also an active publisher and author.
Andreas Rinner
Andreas Rinner is Head of Business Unit (BU) Innovations at PASS Consulting Group. The computer science graduate manages and coordinates the analysis and development of new technologies that the consulting firm uses to solve business, technological and corporate strategy issues. BU Innovations supports customers with assessments and market studies and also initiates research projects and partnerships between science and business. Andreas Rinner's team also carries out research and development assignments within the company and is the driving force behind the continuous expansion of PASS' industry and technology expertise.
Harald Richter
Prof. Dr.-Ing. Dr. rer. nat. habil. Harald Richter holds the professorship for Computer Engineering and Computer Systems at the Clausthal University of Technology. His research focuses on real-time computer networks in automobiles, real-time parallel computers for ECU recentralization, and a test vehicle for testing computer networks and parallel computers in automobiles. The test stand, which was developed and built for the project "Real-Time Computer Networks in the Automobile", could be exhibited at the Hanover Fair, the CeBIT as well as the IAA. Furthermore, Prof. Richter is researching schedulers for grid computing and a software infrastructure for authentication and authorization.
Franz-Josef Radermacher
Prof. Dr. Dr. Franz-Josef Radermacher is Chairman of the Research Institute for Application-Oriented Knowledge Processing/s (FAW/n) as well as Professor of Computer Science at the University of Ulm, President of the Federal Association for Economic Development and Foreign Trade (BWA), Berlin, Vice President of the Eco-Social Forum Europe, Vienna, and member of the Club of Rome.
Franz Nees
Prof. Franz Nees was born in Aschaffenburg on October 24, 1961. After completing his studies in economics in Marburg, he worked for several years in the IT department of DZ Bank, most recently as an authorized signatory and department head. In 1995, Nees moved to the Faculty of Business Informatics at Karlsruhe University of Applied Sciences as a professor. There he teaches economics and information technology in the financial industry.
His consulting activities cover the topics of corporate management and risk management. He is chairman of the strategy advisory board of PASS Consulting Group. In addition, Nees works at PASS as a strategy consultant for research & development and international development and also holds several supervisory board mandates.
Thomas Lauer
Prof. Dr. Thomas Lauer holds the professorship for general business administration, in particular corporate management, at the University of Applied Sciences Aschaffenburg. He is also Visiting Professor for Strategy Management at Seinäjoki Business School Finland. The focus of his expertise lies in the areas of customer-oriented and strategic corporate management and in change management. He is also active as a consultant in these areas, especially in the new conception or optimization of customer loyalty or bonus programs, the conception and optimization of market strategies as well as support, analysis and moderation in change environments. In Finland, he is currently working with several companies on a strategy concept for market entry in Germany.
Georg Rainer Hofmann
Prof. Dr. Georg Rainer Hofmann is Professor of Business Administration at the University of Applied Sciences Aschaffenburg. His teaching areas are data processing and business management with a focus on IT strategy and organization, professional service firm management, knowledge management, corporate policy and ethics, as well as mathematics and philosophy. Hofmann is also a lecturer in the MBA program "Business Integration" at the University of Würzburg and a guest lecturer in the master's program "Business Information Systems" at the University of Liechtenstein, Vaduz. Hofmann was active for several years at the Fraunhofer Institute in Darmstadt and as a freelance consultant. He is co-editor of the journal "Wirtschaftsinformatik" and a member of the supervisory board of CAPCom AG, Darmstadt. The focus of his scientific work is on guiding principles and strategies in corporate management, management of consulting and service companies, and data processing strategies.
---