Innovations (1998)
Language: German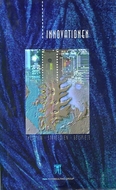 Hardcover with cover, mail order, Language: German
35.00 EUR (inkl. MwSt.)
Theories, strategies, examples.

The articles in this publication intend to contribute to raising innovation awareness. In other words to improving the ability to judge and decide by way of insight into the wide range of innovation options, their conditions and processes.
The thematic grouping of heterogenic subjects corresponds to the conviction that promising inspirations can also be reached outside the own area of expertise and which in turn have a positive impact on one's own field in the shape of know-how transfer.
---