With the PASS Development Center Tunisia, located in the Tunisian capital Tunis, the PASS Consulting Group is now represented on the African continent. The German IT company based in Aschaffenburg is currently building up a team of developers there and will also be cooperating with local universities in the future.
According to a recent study by the Institute of the German Economy (IW), the shortage of skilled workers in IT professions in Germany is at a record level: a high demand meets declining numbers of graduates. With the PASS Development Center Tunisia, located in the business district Les Berges du Lac 2 in Tunis, the PASS Consulting Group is therefore breaking new ground. It is currently establishing a development team in the North African country that will work closely with its German colleagues.
After all, Tunisia is more than just a vacation destination: the digital economy is the country's fastest-growing industry. This goes hand in hand with an enormous potential of well-trained IT specialists: Every year, more than 10,000 graduates graduate from university in IT degree courses, with women accounting for almost 50 percent of the total. Another factor in favor of Tunisia is its geographical location: Tunis is only a 2.5-hour flight from Frankfurt and is in the same time zone.
"We are very happy that our engagement in Tunisia is starting as well as we expected based on our positive experiences with Tunisian colleagues in projects in Germany. Cooperation with the local authorities has been very straightforward so far and interest in our job postings is high. We see the Tunis location as an investment in the future, especially since it will open up access to the African and Middle Eastern markets for us in the medium term," explains Jan Rienecker, member of the Board of Executives at PASS.
From Aschaffenburg back to Tunis
Managing Director of the PASS Development Center Tunisia is Ahmed Tayeche. The electrical engineer joined PASS in 2021 and previously worked in the Research & Development department in Aschaffenburg. He has studied or worked in Tunisia and Germany and knows the PASS process technologies. This makes him the ideal person to build up a team in Tunis. "I am very pleased that PASS is taking the step to Tunisia and giving me the chance to establish the company locally. The country invests sustainably in its IT infrastructure as well as the high-quality training of IT specialists and is therefore an attractive nearshoring location," says Ahmed Tayeche.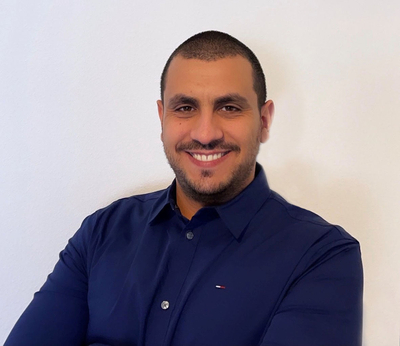 Picture: Ahmed Tayeche, Managing Director of the PASS Development Center Tunisia > Download