Digitalization does not stop at the world of sport. Today, associations and clubs as well as event organizers are creating new digital concepts to inspire crowds and fans. Our PASS Business Unit Sports dedicates its experience entirely to these new strategies and supports companies and associations in sustainably participating in digitalization in the sports environment.
As the youngest business unit at PASS, the Business Unit Sports is a regular point of contact for new technologies in the business fields of Sports & Events. We will be happy to advise you on the digitalization of your association, club and event structures.
START7 - The Handball Fantasy Manager
Together with HBL GmbH, PASS developed and operates the Handball Fantasy Manager START7. Launched in January 2023 as an official licensed product of LIQUI MOLY HBL, the app for iOS and Android devices enables handball fans to become managers in the "strongest league in the world" themselves.
For the world's first ever Handball Fantasy Manager, PASS not only developed the interface of the smartphone application, but also provides the software behind the app as well as the server structure for thousands of users. PASS has been the official digitization partner of LIQUI MOLY HBL since summer 2022.
Timo Boll Webcoach
Table tennis meets digitalization. Together with top athlete and record European champion Timo Boll, PASS Consulting Group developed the first web coaching platform in table tennis. At the heart of the platform are coaching videos aimed at both amateur players and competitive athletes.
On his portal, Timo Boll presents, among other things, stroke techniques as well as tactical moves and gives tips on correct footwork and mental strength. In addition, an individual video analysis of the game behavior is offered.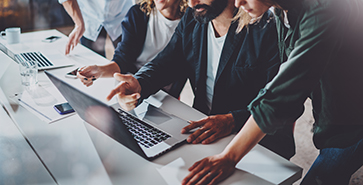 We help associations, clubs and organizers to participate in the digitalization of sport. For this purpose, we have developed competencies in various projects over the past years and now provide support for all technical challenges related to the management of membership data, results lists and other administrative structures.
Association administration for one of the largest umbrella organizations in Germany
For the German Gymnastics Federation (DTB) and its 18,000 clubs and approximately five million members, a version of the federation administration system revised by PASS will soon provide an overview and help manage all DTB processes and events. More information on the sustainable association administration of the future.
Data Hub for sports data around the globe
In another major customer project for an international umbrella organization of the sports industry, PASS recently realized a Data Hub for thousands and thousands of players as well as confederations and associations from over 190 countries. The new data hub enables the collection and provision of results data and statistics in real time.
You can find more information about PASS digitalization consulting on our product page on strategy consulting for digital transformation.