Change as a challenge and chance (2000)
Language: German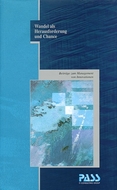 Hardcover with cover, mail order, Language: German
35.00 EUR (inkl. MwSt.)
Articles on information management.

The third edition of the PASS Innovation Academy is an interdisciplinary contribution on how to conduct a personal situation analysis: Socially, economically and technologically.
Most of the texts have been taken from an internal PASS convention with the title "Change as challenge and chance". It was a fact-finding tour with many facets leading through time and trends, and we want to offer you the opportunity to enjoy this tour as well. We invite you to join us in reflecting about the phenomena of change experienced within the InSoc, the information society.
---