ERP System for managing your business processes and resources
From product management through to payment receipt – including customer management and sales support
With our ERP modules, you can organize and manage your company's business processes. From product management and automatic order processing through to payment receipt: You decide which modules you need for the successful running of your company – and you pay only for the modules you actually use!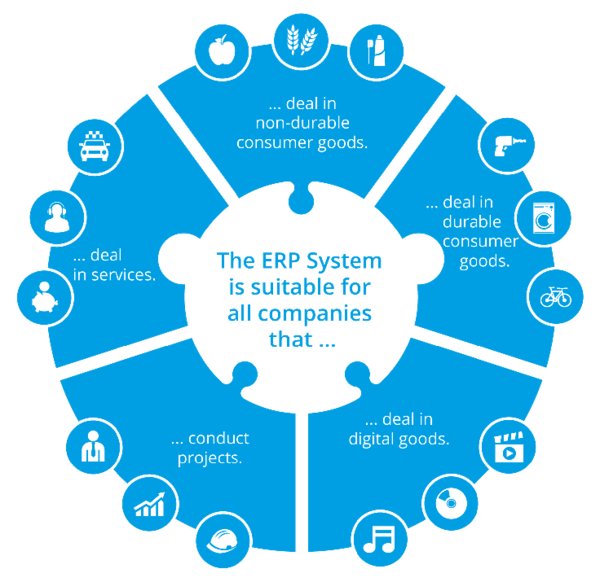 Flexibility of use, thanks to an open, modular design
Your requirements for the ERP System to be deployed are as unique as your company's product portfolio and distribution channels. Our modular approach caters to these different requirements: Both shop operators who offer their products exclusively online and companies with a traditional sales structure or omnichannel strategy can leverage our ERP System. The system grows with you, and is therefore also perfect for startups in the process of setting up – since funds are often scarce in this business phase, we support startups with an incubator model.
Basic technical data
Our ERP System is a web application that can be called up in the browser, without the need for a plug-in. The solution comprises standardized software modules, which you can purchase either individually or as a full package. Modules can be added at any time as your company grows – enabling you to keep your individual system lean and transparent at all times.
The open, flexible structure of the system also enables you to integrate individual components into existing system landscapes. Via interfaces, we also integrate ERP components from other providers, so that these act as part of the overall solution. Additional modules, such as special product planning and management systems and financial accounting systems, can therefore be integrated and continue to be used.

Product management
In this module, we manage your services or merchandise – regardless of the distribution channel you use: both offline and online sales are supported. The E-Commerce Software informs you as soon as orders are received and goods can be shipped. You can assign the order items to individual packages or the relevant shipping provider. Returns management gives you an overview of returns: Here, you can view the reasons for the return, compile statistics, and track the current status of the returns solution (repair, exchange, etc.).

Customer relationship management
A CRM System helps you acquire new customers and retain existing customers, and thereby forms the basis for successful sales. Record leads with just one click, make calls directly from the system, and set reminders. Company and customer information can be entered simply and efficiently, and can be found quickly and purposefully using search, filter, and sort functions. Classifying your customers by assigning them numerous attributes also enables you to provide them with individual offers.

Order management
This module enables you to map sales processes at an early stage, as the path for successfully initiating contact with a prospective customer is already stored in the system. This means that you always have an overview of the number and scope of potential orders and can plan resources accordingly. Any offers submitted, resulting orders, and the associated contract documents can be automatically stored and managed in the system. The process loop extends to invoicing and payment receipt – this gives you a comprehensive overview of the entire history of any given order concluded.

Invoicing & payment receipt
Your invoicing is carried out in this module, in which invoices are created and managed. The system also constantly keeps you up to date on orders that have not yet been invoiced, as well as on any payment issues and open items. If you sell services, you can assign your employees' hours worked directly to the relevant order and invoice the customer accordingly. Large volumes of data are processed overnight in an automated billing run. You can, of course, also generate individual invoices in Word or PDF format at any time.

Reporting
Leverage your extensive database to gain new information – because it is often related data that reveals trends and problems. This module helps you compile defined standard reports or, in just a few clicks, simply individual evaluations. The report generator allows for highly flexible, complex searches that meet your specific needs.

Browser-based software
Application usable directly in the browser, no complex installation of software programs or plug-ins required

Open system
Simple integration of common interfaces and web services in other systems, in line with individual requirements

Scalability
Scalable system equipped for your expansion course and growing number of users

Reliability
Optimal protection in the event of an emergency, thanks to mirrored operation at various locations

Current software stack jee
Option of running with both commercial and open source products