Consulting transport logistics
Consulting on all aspects of your transport logistics
Our service for optimization of your logistics processes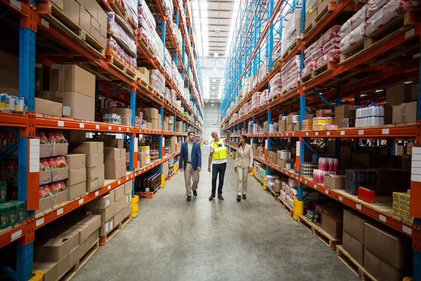 Shifted delivery volumes over the years, changed customer structure, relocation of depots or opening of new warehouses – these are only a few examples of why delivery structures should be reviewed and reconsidered and route planning should be optimized. Otherwise, the resulting insufficiencies inevitably lead to wasted optimization and, with it, savings potentials.
Through our transport logistics consulting, such questions can be analyzed and optimized with strategic planning using the PLANTOUR route planning software. Separately from expanded use of the tool, a strategic analysis and a simulation of scenarios requires modeling of data. The preparation of the database for such analysis can quickly become complex.
We support you with our transport logistics consulting with analysis and optimization of your transport processes – whether it's about route planning, location optimization, or general questions such as your own vehicle fleet versus make-or-buy. In collaboration with you we develop a result that puts you in a position to decide based on facts and to gain cost savings as well as increased quality and productivity.

Increase in productivity
Higher quality, fewer costs, better plans and therefore relaxed employees. All of these factors affect your overall productivity positively.

Cost reduction
Too many driven kilometers, waiting times or unnecessary overtime as well as excessive wear and tear – reduce your cost drivers by optimized transport planning.

Improved quality
Realistic planning that reflects your actual transport requirements and increases your quality. Both, in internal processing and in customer service.
Project workflow of transport logistics consultation
We have developed a standardized workflow model during our many transport logistics consulting projects that gives us the tools to meet your requirements quickly. We differentiate between three project types that build on one another:
Feasibility review: You have an idea and would like to check whether it could work? We prepare a feasibility analysis for you with our expert tools.
Implementation concept: A potential for success was determined for your idea and now you want to implement it? We develop the concept together with you until it is ready for operational implementation.
Adjustment: Even the best plan can be improved by customer feedback, drivers and dispatchers. Together we revise the plan on the basis of the received feedback.
You decide – even within the ongoing analysis – how far the project should go.

Understanding
You present your idea to us. To be able to picture the requirement correctly, we have to understand your current status and the desired target situation clearly.

Collection of data
We will work out which data are required for the analysis and how they can be collected. For the most part historical data is sufficient.

Data modeling
We model the representative database for your target concept by using our statistical methods.

Concept modeling
In the next step, we generate your current status situation in our expert tools such as PLANTOUR.

Modeling of the KPIs
By modeling the mutually specified KPIs, the potential of your idea can be measured easily and shown clearly.

Optimization of the KPIs
We compute the key characteristics of your current and your new concept. We optimize your model this way in order to achieve your desired optimum as much as possible.

Discussion
We discuss and review the plausibility of the result with you on an operational level. Your feedback becomes part of the presentation.

Presentation
We present the results, show you the facts and interpret them together with you. The decision for implementation is, of course, yours to make.

Documentation
You will be given an individual summary of the analysis results.

Interviews
Implementation often fails because not all requirements are gathered or the human factor has been forgotten. We support you with interviews of key persons in the field.

Optimization
If some aspects have not been taken into account sufficiently, we subsequently tighten up your new concept and adjust it.

Implementation concept
We develop a realistic implementation concept from the gradual shift to the optimal point of time.

Data feedback
After implementation, we must verify that the expected results were achieved and how the relevant KPIs have developed.

Post-calculation
We review the conformity to the modeling and measure the new performance with the help of the prior model.

Improvement
Develop new ideas on the basis of the findings. We are entering, with you, into a continuous improvement process.