MAPSERVICES for route and tour planning
MAPSERVICES for optimal truck routing and route planning
Geographic services and optimizations for transport logistics – simply from the cloud
The MAPSERVICES provide various geographic information and optimization tools for easy use directly from the cloud for transport logistics, from truck routing and route planning to route optimization. These services can be used from other programs and apps via REST API or via an intuitive web app, as easy as other well-known map service providers. Most free online map services provide functionalities for private use, our software services are specially optimized for logistics – especially for truck routing.
Truck attributes, toll information, truck speed profiles
We start where free map services end. Our maps take truck attributes into account for truck routing or calculate driving times based on specialized truck speed profiles and provide toll information as required for professional truck routing.
Complex questions simply answered in the browser
Are you looking for visual support in truck route planning and would like to find potential for optimization, but you only have a small fleet and think that complex tour planning systems are too large or complicated for your needs?
With MAPSERVICES, you can easily carry out your truck routing as a web app in your browser without complicated interface adjustments or training measures.
Fully integrated through the REST API
Do you need professional logistics services that you can easily integrate into your individual application? Would you like to use address validation, truck routing or route optimization directly in your ERP or TMS?
By integrating MAPSERVICES via a secure REST API from the cloud, you get a single view of logistics data across the enterprise and work with consistent values across all systems.
You already know the MAPSERVICES and would like to test them without obligation?
Visualize, calculate and optimize your car and truck routes by clicking on the map or by entering them in the browser. View your daily tours at a glance including truck driving times, distance information with toll information and cost calculation. Use the ready-made truck profile with passage restrictions and adapted speeds and export your resulting truck route planning as Excel sheet.
Automatic address completion and correction during input (geocoding)
Determination of distance, driving time, toll route, CO2 emission and transport costs
Use of fastest, shortest or cost-optimal route as basis for optimization
Determination of route planning with truck-specific parameters
Display of several tours simultaneously
Truck route optimization at the push of a button
Direct access possible by entering the URL, e.g. from Excel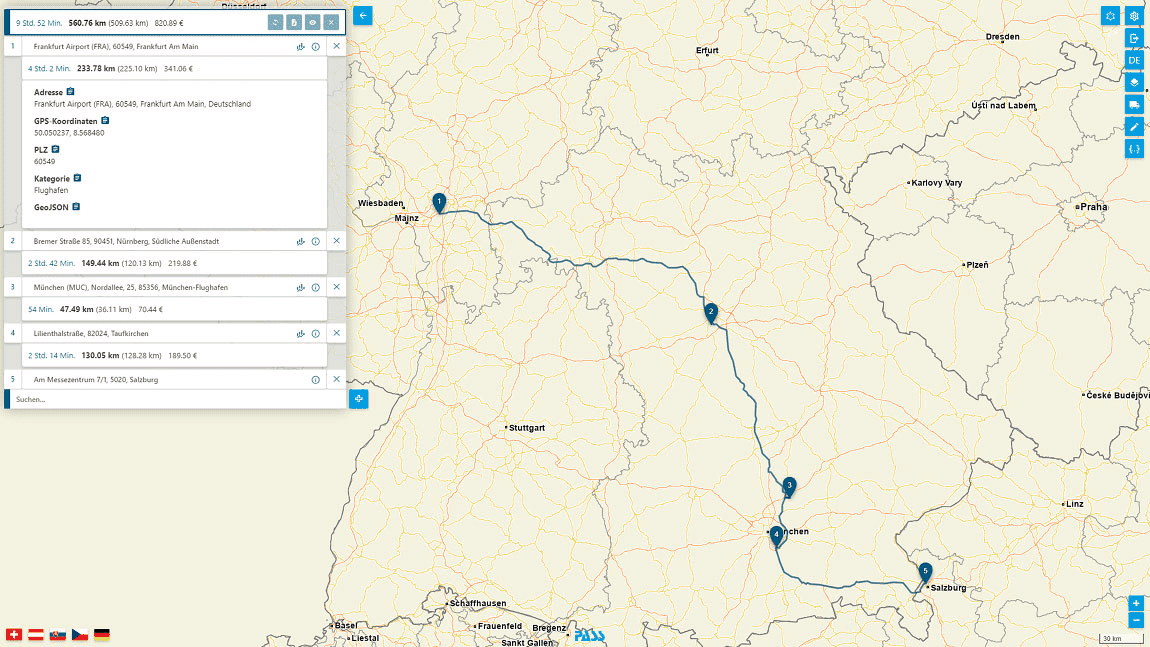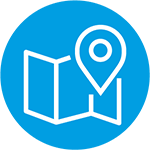 See on the map where your customers are distributed or how your sales territories are located. Calculate key figures for your customer distribution and display the assignment directly on the map, either by entering it in the web app or by entering the URL, for example, using Excel functions.
Visualization of areas and addresses in different coloring
Determination of metrics based on reference points such as branch or warehouse addresses
Identification of regions by merging existing area structures such as postcodes or administrative areas (e.g. cities, counties, etc.)
Fast export as Excel sheet
Creation of individual areas by drawing on the map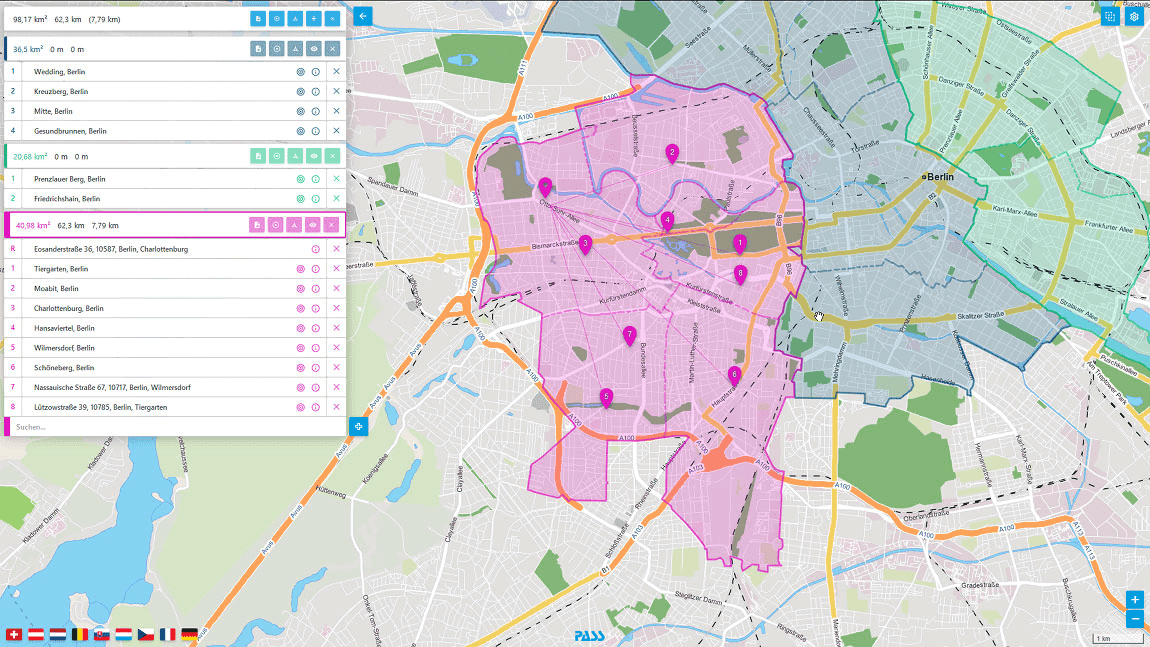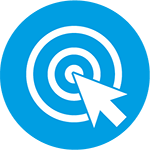 A complete tour planning software and tour optimization such as PLANTOUR offers you more functionalities than you need. Standard settings are sufficient? You only want to plan sporadically or you only have a small fleet? Use MAPSERVICES for truck route optimization in only three steps:
Upload order data via Excel file and have it located automatically
Upload fleet data via Excel file
Set optimization parameters and get results
Truck route optimization with a web app can be that easy.
Simple truck route planning with professional algorithms and functions
Fast with Excel upload without additional interface
Visual display of the tours directly on the map
Consideration of truck attributes
Manual post-processing of tours via drag and drop in the map
Export of the tours as Excel sheet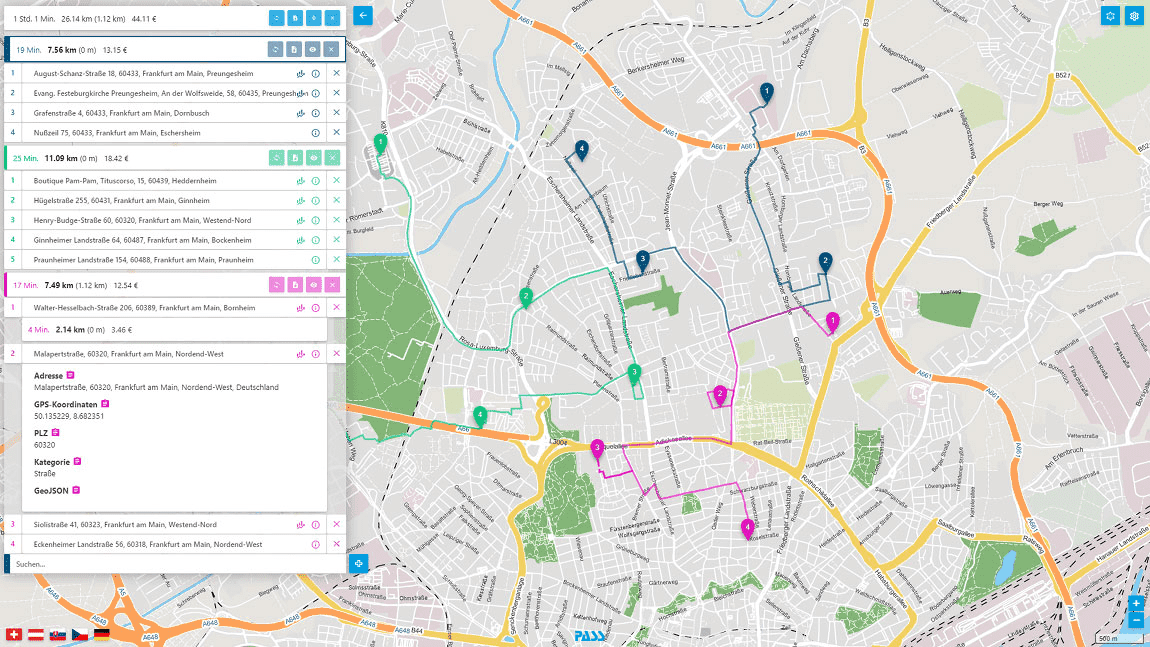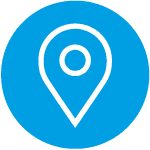 Find addresses and Points of Interest (POIs) with house numbers and translate them into geographic coordinates (geocoding) or have the next address delivered to geographic coordinates (reverse geocoding). Search by postal codes, city names or administrative areas and get the geographic data as a processable Geo-JSON.
Forward and reverse geocoding in single or batch mode
Fuzzy search, automatic error correction and suggestion service during input
Outstanding search speed for auto-completion during data entry
House number-accurate location and area search
Free input of addresses, POIs and areas without rigid address structure
Automatic multilingual search, e.g. München (DE), Munich (EN) or Monaco (IT)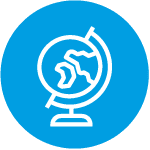 Use our logistically optimized map view directly in your application by integrating our tile server, e.g. for truck routing. Via x/y/z addressing 256x256 pixel raster tiles are provided, so that you can integrate them into any mapping framework. Integrate transparently further data sources into our service and talk through us with other free and fee-based map providers such as OSM or Google.
Display of map tiles specially optimized for logistics
Use of the x/y/z standard to provide 256x256 pixel raster tiles
Transparent integration of additional map services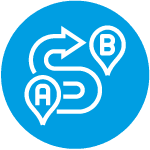 Calculate distances, driving times and routes for cars or trucks, taking into account routing relevant attributes such as length, height, width, weight or dangerous goods information. Determine toll information for the route and use different specifications for route determination. Calculate distances or a complete set of distances and create your own truck routing directly in your application.
Simple distance and route calculation based on addresses or coordinates
Calculation with predefined car and truck speed profiles
Determination of route, distance, driving time and toll information
Consideration of routing relevant truck attributes
Calculation of the fastest, shortest or most cost-effective route on the basis of kilometre and time costs
Point to point determination or complex vector and distance matrices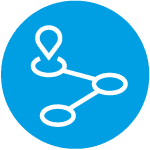 Distribute a set of stops to a vehicle in the optimal sequence or calculate a (partially) given sequence of stops on the time axis to calculate your truck routing. The calculation considers pickup and delivery, pickup and delivery time windows, quantity/weight/volume and many other parameters. Use this service to integrate a complete truck routing or score tour planning directly into your application.
Post-calculation and optimization of individual tours
Support of pickup and delivery with multiple time windows and multi-depot functionality
Consideration of quantity, weight and volume to decide whether you want to commute overloaded or multiple times
Inclusion of service and break times in the tour
Usage of all distance service functions for routing and individual control of the optimization target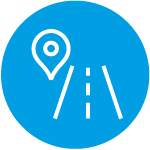 Determine the ecological footprint of your truck routing. Calculate with general vehicle information or concrete tours and payloads to maintain your CO2 emissions and show your customers their contribution to sustainability.
Determination of CO2 emissions on a vehicle or tour basis
Inclusion of the exact payload of a specific tour
Calculation in single or batch mode for complete tour plans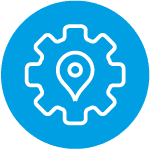 Make unlimited use of the full functionality of the truck route optimization and receive your cost-optimized route plan. For this purpose, hand over all your deliveries and your heterogeneous fleet to the service.
Use of all basic functions of the distance service for vehicle-specific distance matrix determination such as truck attributes or cost-optimal truck routing
Benefit from all functions of single route optimization such as pickup and delivery, multiple time windows and service and break times
Control of preferences and avoidance strategies via individual restrictions on order, vehicle and vehicle group level
Use of up to 128 freely definable restrictions as well as wishes such as two-man crew, fast or side loading vehicles
Intelligent order accumulation and rendezvous planning for heavy load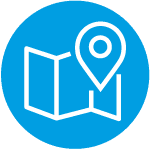 In addition to routing-related services, use the location service to answer various questions regarding the display and optimization of areas. Have complex areas and commuting times determined on the basis of locations, areas and real road kilometres and answer questions such as: From which of your depots can your customers be supplied at optimal costs? What are optimal new depot locations for your customer structure? How do you optimally reallocate your customers in case of location consolidations?
Determination of custom territories (customer move-in, sales territories etc.) based on address information or administrative areas (e.g. postcode)
Calculation of route-optimal depot locations based on the actual road network
Determination of star-KM and commuting times to the customer from given reference points

Simply from the PASS Cloud
You do not need your own infrastructure, only an internet access to use the MAPSERVICES. Communicate with our https-based REST services with JSON objects or our web app.

Always up-to-date map data
We make sure that you always work with up-to-date road network data. There are no downtimes for you due to updates of the system or incorrect driving of your vehicles.

Simple licensing model
The usage fee is calculated transparently based on the size of your fleet and the services used. Request your calculation without obligation and benefit from our subscription model.

Secure authentication
Communicate 100% secure over SSL encrypted connections in both the web app and the REST API and use our OAuth2-based authentication with JSON Web Tokens.

Your data is secure
Use our DSGVO-compliant service in ISO-certified data centers in Germany. Your data will not be stored longer than necessary for the calculation. We work completely without personal data.

Simple online documentation
As a developer, integrate the MAPSERVICES quickly and easily by using the online documentation according to the OpenAPI 3.0 standard and test the API directly in the browser.
Tour planning software instead of web app and cloud services
Do you need a standalone software with a variety of professional settings for your truck route planning? Then find out now about our route planning software PLANTOUR.