PASS delivers new System Inventory update to customers
The PASS Consulting Group has started the update of its System Inventory software to the new version 2.0 at the end of September. The highlights of the official release on September 30th 2019 are the new app support for mobile devices and the introduction of inventory lists.
The IT inventory solution from PASS provides clear and simple inventory management of hardware, software, licenses, consumables, orders, contracts and more. It also provides a real-time overview of managed assets, cross-departmental interfaces for IT inventory management, and a unified flow of information.
The PASS System Inventory can be integrated directly in companies and easily adapted to their needs. The software is available in two different versions. The Pro version includes, among other things, a standardized rental function for hardware & supplies as well as a workstation management and the possibility to freely define your own generic product types.
The new application for mobile devices expands, together with the inventory lists, the possibilities of the program in such a way that now the inventory lists can also be carried on the smartphone and device numbers can be read in and out by barcode scanner. The app is available for both iOS and Android.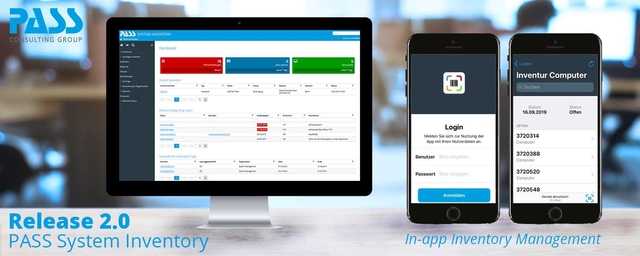 "With the inventory management app, we are expanding our solution to include a requirement that we have taken directly from customer conversations in the market," explains Maria Freund, Business Development Manager Digital Business at PASS. "In a modern way, the inventory in companies can be made easier without the purchase of additional hardware".
The new version and the app will be available for download to all PASS System Inventory customers by the end of September. For interested new customers PASS offers several solutions. After delivery and installation of the application, hosting and cloud integration can also be carried out on a server of the PASS Consulting Group. The software is already used by numerous companies of various sizes and industries.