One solution for the entire process - from which agents, travelers and content providers benefit equally: PASS Travel Agent Desktop is a booking system that combines all central distribution channels as well as workflows in one intuitive web interface.
Flexible combination of individual travel offers: In order to be able to provide customers the best offer, travel agencies today often have to book and process their services in different systems. This means the transaction of bookings does not follow a central process, and the data is often stored redundantly in the applications. This is exactly where Travel Agent Desktop (TAD) comes in as a multi-content-capable booking system: It maps all distribution channels in one web interface: from GDS and NDC content to direct connections as well as low-cost carriers and aggregators for flights, rental cars and hotels. "We enable travel agencies and TMCs to compare content from multiple sources - without process interruptions. The bottom line is that they can not only offer better advice and more attractive prices, but simply tap into additional revenue streams and realize saving potentials," explains Anne-Kathrin Geuppert, Head of Business Development Travel EMEA at PASS.
New path cleared for travel distribution
PASS developed the travel sales platform together with the global franchise system Lufthansa City Center (LCC). As Bridge-IT, it has been an essential part of the booking technology at LCC offices since 2018. "Comprehensive price comparisons and full content - that's what Bridge-IT stands for. Our travel agency employees have the advantage that, in addition to the GDS, they also have direct access to the fares in many booking systems of airlines, hotel portals, car rental companies and others," says Tina Roos, Senior Director Technology & Operations at LCC.
A central concern during development was to ensure consistently high quality and to cover the process from offer management to booking and post-booking processes. The result is a perfect end-to-end process that ensures efficient and transparent workflow. The profile management system Umbrella Faces and the travel ERP software MIDOCO Midoffice, for example, contribute to this. In addition, the travel agency booking system is based on an open architecture, which ensures that other applications can also use the middleware and access the services and rules.
Future-proof technology meets maximum data security
Travel Agent Desktop is based on the established global PASS Multi-Source Travel API. In daily usage, a uniform look-and-feel and consistent processes simplify the workflows. Thanks to its provision as a web app, no on-site installation is required. PASS ensures maximum data security by hosting the application in ISO-certified German data centers. In addition, the data protection requirements of the European General Data Protection Regulation (EU-GDPR) and the Payment Card Industry Data Security Standard (PCI DSS) as well as the Payment Services Directive (PSD2) are taken into account.
For more information, please visit our product page.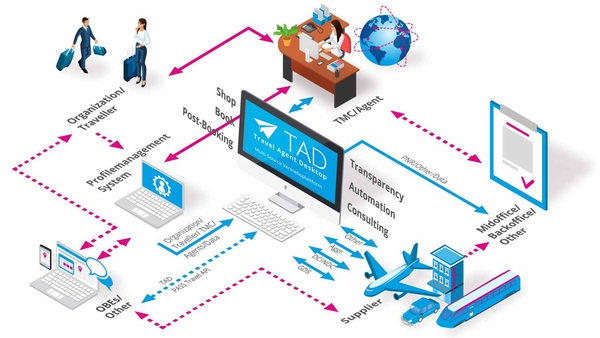 Picture 1: TAD-Graph > Download (893kb)
Picture 2: Anne-Kathrin Geuppert, PASS > Download (172kb)
Picture 3: Tina Roos, Lufthansa City Center > Download (513kb)